ESE João de Deus Project Website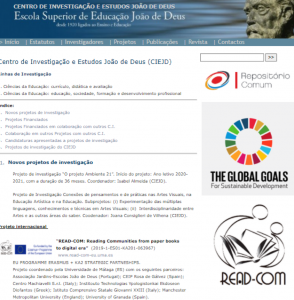 EU PROGRAMME ERASMUS + KA2 STRATEGIC PARTNESHIPS.
Projeto coordenado pela Universidade de Málaga (ES) com os seguintes parceiros: Associação Jardins-Escolas João de Deus (Portugal); CEIP Rosa de Gálvez (Spain); Centro Machiavelli S.r.l. (Italy); Institouto Technologias Ypologistonkai Ekdoseon Diofantos (Greek); Istituto Comprensivo Statale Giovanni XXIII (Italy); Manchester Metropolitan University (England); University of Granada (Spain).
Participam os investigadores da Escola Superior de Educação João de Deus/AJE João de Deus: António Ponces de Carvalho, Filomena Moreira da Silva, Isabel Maria Silva Ruivo, Jaime Santos e Horácio Saraiva.
ESE João de Deus Project Site
If you want to read the press release please the button.